We've been getting questions on how to write articles or what articles to write etc …
One of the better ways to choose and write articles on is to focus on product reviews.
We all know that product reviews are cool because they actually target "buyer keywords" as compared to just research keywords and Amazon is so easy to target not just because they have a huge inventory of items to promote but more so because people trust them.  We actually buy from Amazon – "the company" and not buying from a stranger on an auction site 😉 . That's the beauty of Amazon.

A good product review can be an elaboration of the features of a product. For example – a products uses Li-Ion batteries – one this alone you can write on the many benefits you can have using the product due it's long lasting battery life as well as the economic benefits of being able to re-charge the battery instead of buying new ones. So essentially, a one sentence feature of a product on the manufacturer's website can be transformed into a paragraph or a narration or a story by itself  🙂 . You do this for as many features of a product and end the article with your recommendation.
A lot of us have tried (the short-cut) using WP auto-posters that automatically create blog posts based on product keywords you upload. The problem was that almost all of these posts where either de-indexed from the search engines or simply lost their rankings.
There are a few authors who have created great information writing product reviews.
If you are writing reviews for a particular physical product such as discussing features, product specifications, products accessories etc. check out Erica Stone's report called Reviewers Edge – click here to find out more on creating specific physical product reviews.
If you are after creating great content that pre-sells into getting your visitors to check out your offers, then this report by Jeff Carson on 7 Content Tactics on Pre-selling would be a good one –  click to find out more about product pre-selling stuff.
If you are wanting more information on why pre-selling is better then direct up-front selling then check out the free eBook below. This eBook is a classic!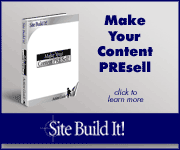 Share this with your friends!